BaseCamp 2023 Activities - ​Watercolor Adventure Journaling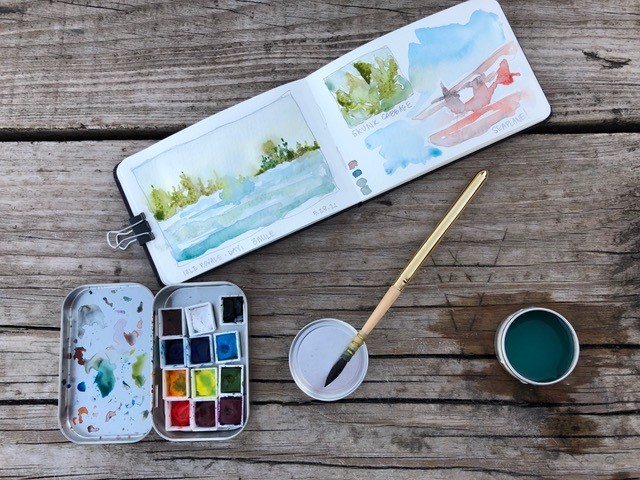 Watercolor Adventure Journaling - How to capture memories, compose quick studies and integrate a creative practice into all of your outdoor adventures!
In this 2 hour workshop, students will learn beginner friendly watercolor skills and tips for creating quick, small art pieces during breaks and a trail journal that you and your loved ones can enjoy for years to come. After a brief overview and instruction period, we will practice exploring different subject matter by hiking to different locations in at the Basecamp 2023 event. Please bring a water bottle, snack, sun protection, lightweight seat or blanket (optional). Each registered participant will be provided with a basic watercolor kit and paper that is theirs to keep. Participants are free to use their own supplies if they already have a watercolor practice.
What you will learn:
When and where to paint: paddling, biking, hiking, planes, trains and automobiles, anywhere!
How to simplify your art kit and lighten your load
Review of pre-made and DIY watercolor palettes, favorite materials
What to paint and composition ideas
Painting from photos and live references
Ways to develop a daily art practice before you hit the trail to build confidence, skill and FUN!
Jen Theisen is a Minnesota based artist and outdoorswoman celebrating the intersection of art, nature and joy! Her classes blend her enthusiasm for the outdoors with her career as an artist to inspire, educate and empower others to rediscover their playful nature and creativity on and off the trail! You can learn more about the artist and her adventures at wanderingpine.com , @wandering.pine and @wandering.pine.art
Cost - $35 per person
5 person minimum, 12 person maximum
July 21 deadline. Final count due July 27th.