Add some organization to your pack or bag. Accessory Bags are available in three sizes and hold a surprising amount due to their triangular shape-- a wide bottom and zippered top. The XP versions have added snaps that allow several to be attached together. Our RollUp Travel Kit and RollUp Garment Cover feature XP snaps as well... Adding extra capacity is a snap! Spacing is standard between Small, Medium, and Large, that way they can all work together.
| | |
| --- | --- |
| SIZE | 827-N Small, 828-N Medium, 829-N Large |
| EXPANDABILITY | Standard |
| SIZE / VOLUME | Sm: 3.5in h x 8.25in w x 4in d. 119 c.i. Md: 4.75in h x 9.25in w x 3.5in d. 142 c.i. Lg: 5.25in h x 11.25in w x 4in d. 220 c.i. |
| WEIGHT | Sm: 0.18 lbs. Md: 0.20 lbs. Lg: 0.25 lbs. |
| MATERIALS | 18 oz. waxed canvas, coil zipper, metal zipper pull. |
| COLOR | Heritage Black |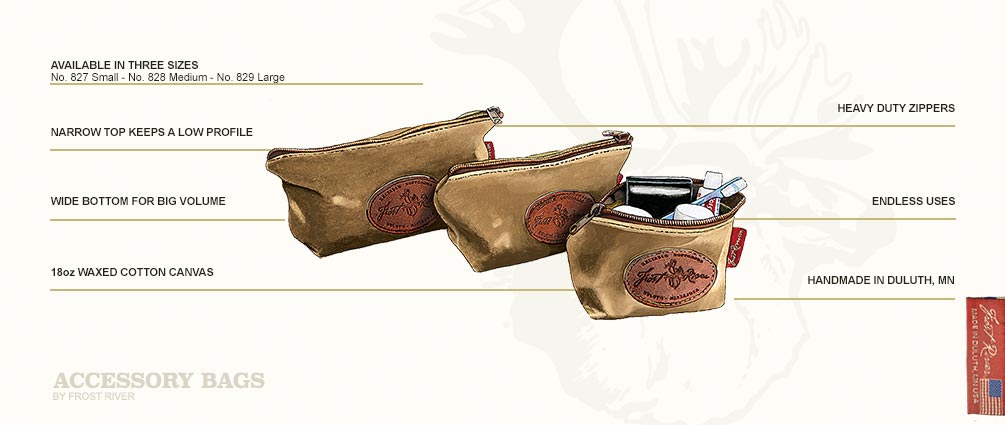 Availability:
Usually ships in 1-2 Business Days
Sorry, there are no reviews for this product yet.